The rear of a camouflaged prototype of the Mercedes-AMG GLC 450 Coupé was recently captured on camera during testing, according to a report from worldcarfans.com.
Industry watchers have indicated that it may be impractical for the German luxury vehicle maker to achieve the arrival of the BMW X4 by converting a GLC into a coupe. The slope on the roofline has a detrimental effect on the headroom in the rear as well as the capacity of the trunk. This is noticeable when comparing the GLE with the GLE Coupé. The GLC 450 Coupé will occupy a market niche directly below the Mercedes-AMG GLC 63 Coupé.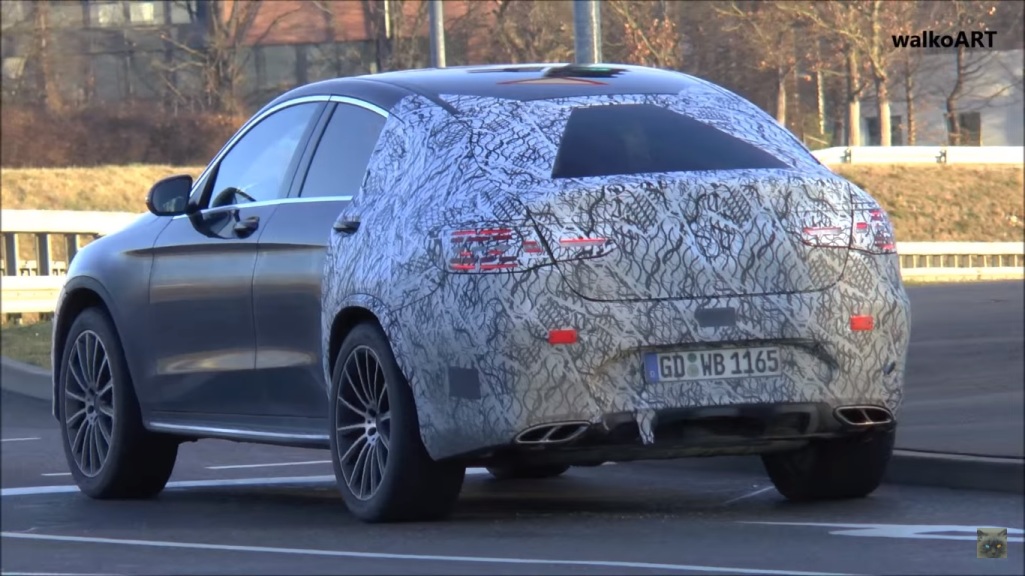 In addition to the four exhaust tips, the Mercedes-AMG GLC 450 Coupé will also have a more aggressively designed body, customized wheels, a larger engine, larger brakes and stiffer suspension. It will also feature a 3.0-liter bi-turbo V6 engine that delivers 362 horsepower and 384 lb-ft of torque. The power and torque are transferred to the 4MATIC all-wheel drive system via the 7-speed automatic transmission. While the C450 sedan is capable of accelerating from 0 to 60 mph in 4.8 seconds with the same hardware, the weight of the GLC 450 Coupe slows its acceleration to around 5 seconds.
The Mercedes-AMG GLC 450 Coupé is expected to be officially presented together with the GLC Coupé at the Geneva Motor Show in March. On the other hand, the top-performing Mercedes-AMG GLC 63 Coupé will not see the light of day until 2017. It has a 4.0 liter bi-turbo V8 engine with 469 hp for the standard model, while the S model offers 503 hp.