The Mercedes-Benz SLR goes back to a car that forever shaped its name in the world of racing. The car goes back to the Mercedes-Benz 300 SLR, which is driven by legends such as Juan Manuel Fangio, Stirling Moss and Pierre Levegh. It is best known for winning the 1955 World Sports Car Championship as well as the 1954 and 1955 Formula 1 championship.
After a bow in 2010, the name Mercedes-Benz SLR could celebrate a comeback. This is based on a new trademark registration by Daimler through a New York law firm with the US Patent and Trademark Office (USPTO) on March 1st.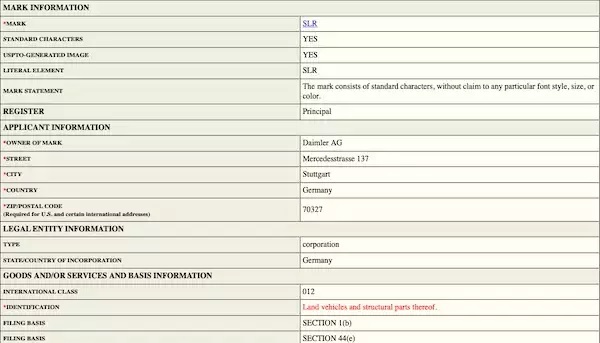 According to a The rideThe SLR name filed in the USPTO refers to "Land Vehicles and Components Thereof". The source claimed that automakers often keep their historical brands for merchandising purposes. However, the lack of text mentioning products other than "land vehicles" suggests that there is more to the story.
The trademark registration is now fueling rumors that a new SLR camera is in the works. The supercar will likely be the successor to the four-year-old Mercedes-AMG GT range, and it could turn out to be a hybrid car. On the other hand, Mercedes remains the mother of speculation.
According to the report, Daimler's use of the SLR name was due to expire on October 31 next year.
The Mercedes-Benz SLR with front engine and rear-wheel drive, produced from 2003 to 2009, was equipped with a 5.4-liter V8 supercharger. It's capable of producing 617 horsepower and 575 lb-ft of torque. During its time it was considered one of the fastest cars in the world. The car was later replaced by the Mercedes-Benz SLS AMG, which is the predecessor of the current Mercedes-AMG GT.