Hofele design always impresses with its tailor-made designs. Our favorites are working on Mercedes-Benz G-Class due to the way they strike a balance between the elements of luxury and sport while maintaining all of the iconic parts of the SUV that have made it a true favorite with car enthusiasts and buyers over the years.
The well-known German aftermarket tuner recently released another individual package for the Mercedes-AMG G63 for a customer. With the name HG63 "Limitless" he gives the SUV a unique styling element that sets it apart from its standard Benz and AMG versions.
The exterior of the HG63 is highlighted by the Citrine Brown Magno body paint provided by Mercedes' G Manufaktur personalization program. These include carbon fiber inserts on the "Power Dome" bonnet of the vehicle, the door handles, the LED light strip on the roof and the air outlets behind the wheel arches. These are rounded off by the company's characteristic "H" logos and a set of forged 24-inch light alloy wheels in a cross-spoke design in Gray Shadow Gloss.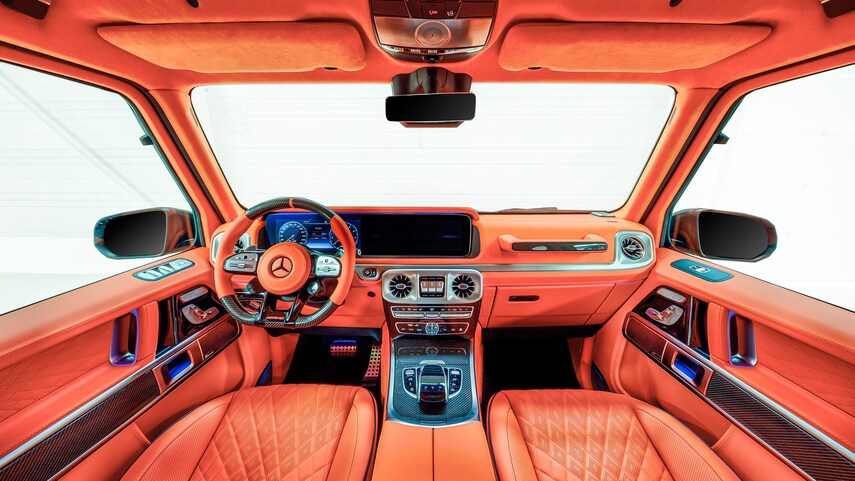 When you go inside, you can see upholstery with nappa leather in mandarin orange and alcantara. The high-performance interior design of the G-Class is further intensified by unique diamond stitch patterns on the seats and door panels as well as other carbon fiber components.
Hofele's upgrades are cosmetic only, but knowing that the Mercedes-AMG G63's 4.0-liter twin-turbo V8 is already producing 577 horsepower and 627 lb-ft of torque should be more than enough. All the power goes to a 4MATIC all-wheel drive and is distributed via a nine-speed automatic. The setup lets the SUV sprint from 0 to 60 mph in just 4.5 seconds.